With great transport links, located just a short distance from the universities, with exceptional architecture, comfortable apartments and excellent local amenities, THINK TANK offers the ideal living place when studying in Maastricht.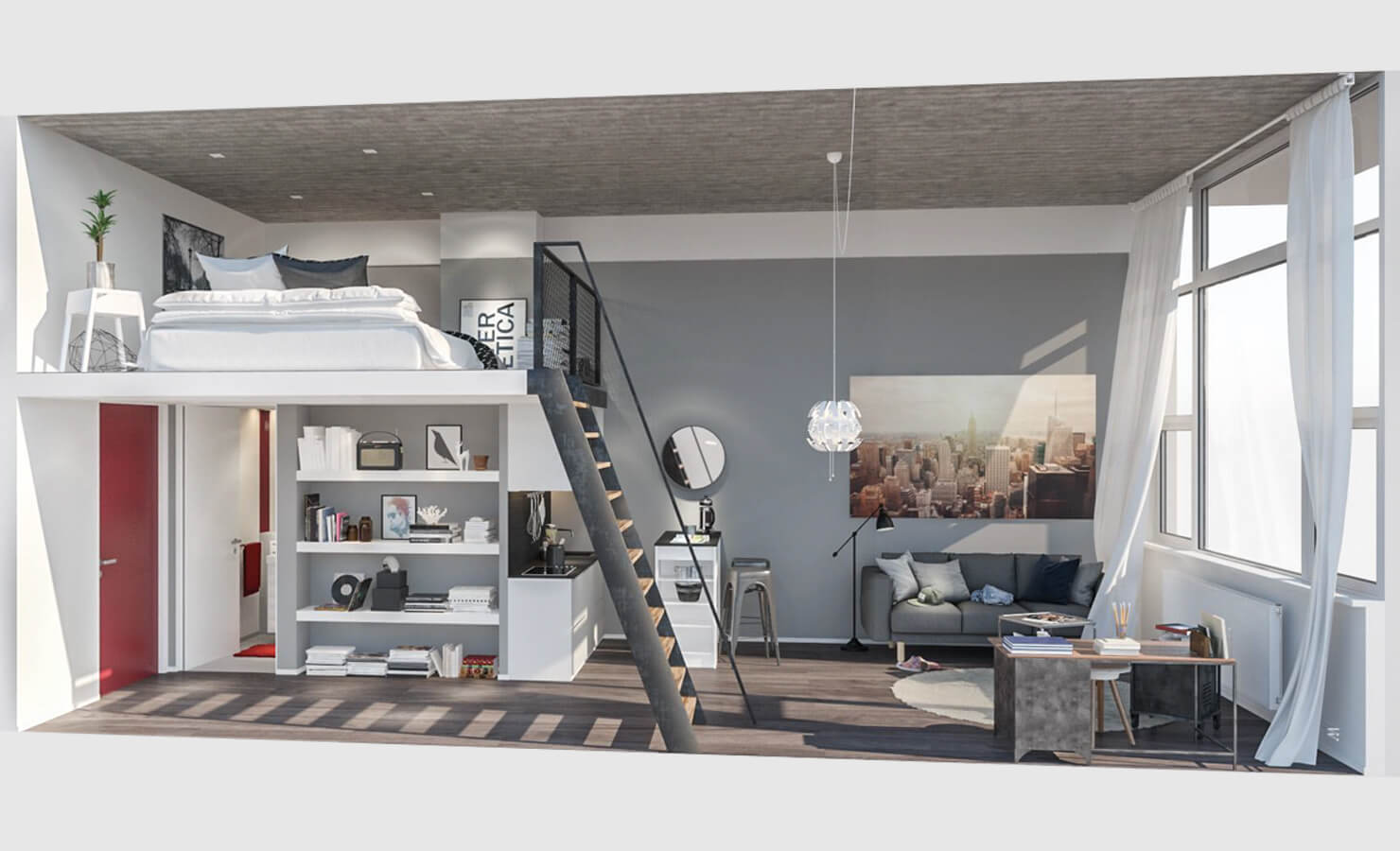 Check out our self-contained lofts with private bathroom and kitchen.
Think Tank offer students the opportunity to live in a small-scale loft. All of our apartments are fitted with modern PVC flooring and a private bathroom and kitchenette.
The bathroom and kitchenette are located to the side of the entrance, below the false ceiling. Hence the rest of the space, in its full height, is reserved for living and working, which retains the loft character of the apartments. The interior design supports this feel with an appropriate colour concept and the unpainted concrete ceiling. This special character also clearly sets the interior of the property apart from standard student housing. The mere possibility of students living in a small-scale loft is likely to be met with great interest.
The special feature of the former training centre is the ceiling heights. A feature that gives older apartments a special charm is efficiently utilised through architectural measures here to gain additional space, whilst retaining the effect of the high ceilings. An additional false ceiling in the entrance area of the apartments creates a second level, which can be safely and comfortably accessed via a staircase with handrail. This constitutes the sleeping area of the apartments. This arrangement provides significantly more space on the same footprint than comparable properties.
More about the apartments
Due to Maastricht's manageable size, distances are short and all destinations within easy reach. The Netherlands is one of the countries with the best cycling infrastructure, and Maastricht is no exception. That makes THINK TANK the perfect starting point.
Nearly as old as the Roman empire and with one of the youngest and most international universities in the world Maastricht's also buzzing with culture and student life.
It takes no more than 15 minutes by bike from THINK TANK to the different university institutes spread throughout the city. The nearest bus stop is right outside the front door. Within 200 metres there are several supermarkets and discount shops for daily needs. At the same distance there is a gym and a tennis club.
The neighbourhood around THINK TANK is largely characterised by rental apartments and offers quiet surroundings. At the same location as the project is the current regional training centre with almost 7,000 trainees.
There is plenty of public parking in the neighbourhood. This requires a parking pass, which is issued by the municipality on application for about €43. The slip road onto the A2 motorway is only about 300 metres away.